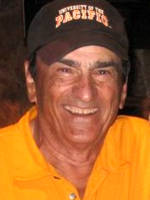 Joe Cala
Index:
41.7
Residence:
Studio City, CA
Member Since:
June 2010
Industry Affiliation:
KNX 1070 - Sportscaster
Notes:
KNX 1070's veteran sports anchor Joe Cala has been inducted into the Southern California Sports Broadcasters Hall of Fame.
Cala, who has spent the past six years of his nearly four-decade sportscasting career at KNX 1070, was honored Monday at the 22nd annual awards luncheon at Lakeside Country Club in Toluca Lake.
Cala spent 32 years at KFWB prior to his time at KNX 1070.
The SCSB Hall of Fame includes honorees such as Dick Enberg, Tom Harmon, Don Drysdale, Chick Hearn, Gil Stratton, Stu Nahan, Vin Scully and CBS2's Jim Hill.
KNX 1070's sports team which includes Cala, Randy Kerdoon, Steve Grad, Joe McDonnell, Chris Madsen and Geoff Witcher also took home the 2012 award for Best Anchor Staff for the second straight year.