AND THE WINNERS WERE. . .
HANSEN DAM G.C. - 01/03/2019: Our opening event of the new annum drew a lucky 13 entries...well, at least 10 of the 13 competitors were lucky,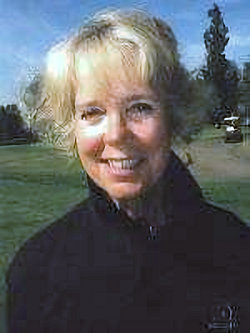 Ms. Miller

or proficient enough, to extract money from the wager pots. Marilou Miller topped the winner's list with an even Fifty Bucks for her pair of birdie payouts and 1st place in Partners. A pair of 1st places in both Low Net & Low Putts earned $26 for Ted "Playing on His Home Course" Winship. A solo birdie and Low Putts runner-up were worth $24 for Craig Fehrman, while another solo birdie went to Bob Stone who added the Porter Gross runner-up spot for a $22 total. Paul Venetos won the Porter Low Gross award along with a pair of 3rds in Net & Partners to pocket $14. Mike Belson's $12 sum came from a Partners 1st & Net 2nd placings. A $5 bill found Bill Lewis with a Partners 2nd & Net 3rd while Brian Oblak's sole marker was the $4 award for an uncontested Super Low Gross. Jimmy Dodds picked up $3 for Partners 2nd and Sunny Weiss accepted a modest $2 for Partners 3rd place. WESTLAKE VILLAGE G.C. - 01/10/2019: The big winner was Mike Gannon who posted the day's low round, a sizzling 74, that translated into exactly a $74 reward that was gleaned from his pair of birdie payouts, the Porter Low Gross award, and a Partners 3rd place. Another birdie winner was Paul Venetos who siphoned $47 out of the wager pots by also tying for Low Putts and taking 2nds in both Porter Gross & Partners. The remaining solo birdie worth $26 was commandeered by Val Mayer. A big high five goes to Jimmy Dodds who bettered his age by a handful of shots while posting a stunning 79 Gross that easily captured the Low Net prize and Partners 1st place for a $24 reward. Craig Fehrman parlayed a tie for Low Putts and a tie for 2nd Net into $16. Sunny Weiss returned from her successful hip surgery to pickup $11 from 2nd Low Net & 3rd Partners. Ten Bucks found Bill Lewis in Partners 1st Place and tied for 3rd Low Net. Also tied for that 3rd Net was Joe Cala who added a Partners 2nd for his $7 payout. The Super Low Gross award paid out $6 to Gordon Crook and Ted Winship's Partners 3rd place provided a modest $3 reward. VICTORIA LAKES AT RIVER RIDGE - 1/17/19: Cancelled due to heavy rains. WILSON G.C. - 01/24/2019: Good weather and a challenging golf course attracted a welcome 17 player turnout. The final scoreboard displayed an unusual 3-way tie for the Super Low Gross title featuring Brian Oblak who added a solo birdie and the day's Low Putts total to claim top dollar of $44,and Ron Troncatty with just a Partners 2nd for a $9 payout, and Jim Sabbe getting a modest $4 for joining that Low Gross trio. The Porter Low Gross award was claimed by Bob Stone whose solo birdie and Low Putts runner-up boosted his earnings to an even $40. Another solo birdie went to Bill Lewis who pocketed $39 by adding a Partners 1st place and Net 3rd. The fourth birdie award worth $26 went toTom Bower. The day's Low Net score along with a Partners 2nd place amounted a $21 payout to Sunny Weiss. Among the single digit dollar recipients was Jimmy Dodds who partnered up in 1st Place with Mr. Lewis for $8 while another $8 found John Moskoff tied for 2nd Net & a 3rd place in Partners. The Porter Gross runner-up spot and a Partners 3rd paid out $7 to Craig Fehrman and Ted Winship joined in the 3-way tie for 2nd Low Net worth $5. OLIVAS LINKS - 1/31/19: Also Cancelled due to heavy rains.

REMINDER TO LEARN THE NEW RULES
As you might have seen during the last few televised PGA Golf Tournaments. Even the Pros are adjusting to the new revisions and as we noted here last month, there are a variety of new rulings that have been adopted by the United States Golf Association which we will incorporate into our weekly Tournaments. Many of these changes were designed to increase the speed of play which has always been our primary concern as a group. Please review and become familiar with each as all new rules will be enforced by our committee (except where local rules override) via the low handicap player in each group. Please review each of these new rules many of which are supported by video presentations by visiting Golf's New Rules: Major Changes on the USGA website.

Continue

GIGS N' STUFF
It's a little late, but if you have noticed we have a newish member, Craig Fehrman, who was introduced by Marilou Miller.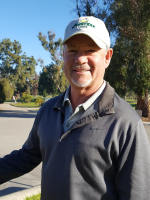 Mr. Fehrman

A California native, Craig was a teamster for 41 years until his recent retirement. Married to his wife Ruth for 35 years, they have two children and live in Valencia. -- Hey, we have a gig. Once again, it's Bill Lewis who signed last week with a new manager, and a couple of days later was on his way to San Diego for a ten day gig in a motion Picture called "Mighty Oaks" in which he oddly enough plays a grandfather, this time to a ten year old musician who leaves home to follow a musical career -- As you may know, last month Cat Ballou had a stent installed to open up an artery by Dr. Loretta. He had it done at St. Joseph hospital in Burbank. A year and a half ago, Mike Belson had the same surgery at St. Joe's by Dr. Loretta. Eighty three years ago, Belson was born at Michael Reese hospital in Chicago. A year and a half later Ballou was born in the same hospital. What does it all mean? Cat was supposed to make his return at Olivas but another rain out set him back -- John Moskoff celebrated his natal day in the 15th. It has been over 25 years since his bypass and he just keeps on ticking. Keep it going John -- Mark Kourtjian will have bunion surgery at the end of the month and will be out for a month or so.. Also on the DL, Joe Cala took an "unplanned" dive recently injuring his arm. He too will be on the mend for a while. -- Ted & Zanne Winship head out to sea this month for another cruise down the Baja coast.

GOLF NEWS ON THE WEB