AND THE WINNERS WERE. . .
BUENAVENTURA G.C. - 02/01/2018: Sunny skies and mild temps attracted a 4 Foursome turnout and provided some excellent scoring conditions on this sporty layout.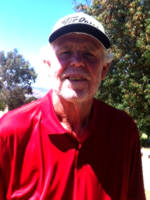 Mr. Gannon

The Super Low Gross category listed a pair of matching 76s posted by Gordon Crook and Ron Troncatty but the big bucks went to the two birdie boys, Rob Stone and Mike Gannon. Rob's $70 topped the money list with 2+1/2 birdie shares along with a Partners 1st, Porter Gross 2nd,and Low Net 3rd. Big Mike pocketed $31 by claiming the remaining 1+1/2 birdie monies. RonTron picked up $22 by adding 1st in Low Putts to his Gross award shared with Mr. Crook who claimed $18 by adding 2nds in both Net & Partners, while an identical $18 went to Tom Knickerbocker for his Porter Gross award, a tie for 2nd Low Putts, and Partners 3rd place. Preceding those payoff amounts was John Moskoff's $19 for 1st Places in both Low Net & Partners. Four Bucks apiece went to Marilou Miller for joining the tie for 2nd Low Putts and Brian Oblak for a Partners 2nd placing. Bruce Simon partnered up with The Knick for the Partners 3rd place paltry payout of $2. SIMI HILLS G.C. - 02/08/2018: On a blustery difficult day buffeted by blasts from the unrelenting Santa Ana winds exactly half of the field of 20 players managed to finish "in the money". Remarkably three of those winners were from our cadre of octogenarians. A birdie deuce on Hole #8 by Jim Jacobs was amazingly the sole tweeter posted the entire day, paying out a humongous Hundred & Six Bucks, followed by Jimmy Dodd's stunning Low Net win with a 63 that earned $21 when added to his Partners 2nd place, while another of that trio of ancient ones, Ted Winship managed to pick up $10 for 2nd Net & 3rd Partners. The remaining winners were Tom Knickerbocker with $31 gleaned from winning Porter Low Gross, plus a Partners 1st & Low Putts 2nd. The Putting Champ was Brian Oblak who also tied for Super Gross runner-up to earn $22. John Moskoff pocketed $17 from a Partners 1st & Net 2nd placings. An even Ten Bucks went to Ron Troncatty, the Super Gross winner, followed by $6 to Rob Stone for his Porter Gross runner-up spot, $5 to Mike Gannon for Partners 2nd, and then a modest $4 to Gordon Crook who tied Mr. Oblak for the Super Gross runner-up and joined Mr. Jacobs for the shared Partners 3rd place. WESTLAKE VILLAGE G.C. - 02/15/2018: Low Round of the Day was the tidy two-over-par 69 posted by Gordon Crook on this his home course where he has long since memorized every blade of grass, but without earning any birdie monies it only paid out $35 from 1sts in Super Gross & Low Putts and 2nds in Net & Partners. The lion's share of the birdie loot went to Tom Knickerbocker for 2+1/3 tweeters along with a tie for Porter Low Gross & a Partners 2nd place that boosted his winnings to $73 big ones. The Low Net prize went to Jim Jacobs who added Partners 1st & a tie for 2nd Low Putts plus a 1/3 birdie share for a $36 payout. The 4th blind birdie went to a Brian Oblak solo effort for $28 when bolstered by his Super Gross runner-up spot. Rob Stone shared 1st place in Porter Gross with The Knick, then added a Partners 1st, a Net 2nd tie, and a 1/3 birdie split for $27. An even Ten Bucks went to Marilou Miller for 2nd place ties in both Net & Putts plus a shared 3rd place in Partners. Runner-up spots in both Net & Partners earned $9 for Rich Marzella while Two Bucks apiece rewarded Ted Winship and Jimmy Dodds for pairing up to capture Partners 3rd place. BALBOA G.C. - 02/22/2018: Once again during this month a single competitor absconded with the entire contents of the birdie pots. This date it was Paul Venetos who pocketed an even $100 from all 4 blind birdies, worth $20 apiece, plus taking the Low Net prize and 2nds in both Porter Gross & Partners. Low Round of the Day was the nifty 74 (without a single birdie on the card!) posted by Brian Oblak that captured both Super Low Gross and Low Putts along with a tie for 2nd Net. The Porter Low Gross winner was Tom Knickerbocker whose $18 payout also included a Low Putts runner-up spot. Marilou Miller picked up $13 from a Partners 1st place and a tie for 2nd Net, while her partner Val Mayer accepted a modest $7 for his share. Bill Lewis earned $4 when partnered with the big winner Venetos for 2nd place. The following trio of also-rans accepted a token Two Bucks each, Troncatty for Super Gross runner-up, and Jacobs & Belson for the 3rd place Partners pairing.

Continue

GIGS N'STUFF
Congratulations to Gordon Crook who "Aced" the 17th at the Westlake Village Golf Course on Sunday 2/25/2108.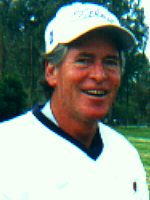 Mr. Crook

With the pin set in the far back right of the green, Gordon flew a nine iron 7 ft short on a down-slope which then trickled right into the jar. The H.I.O. was witnessed by DPTGG members Bruce Simon, Danny Chambers and Gordon's son Kevin Crook. The last Thursday Ace was 7/26/2012 also at Westlake, but at the other designated par 3, hole #9 by "Slammin'" Sammy Strangis. Currently the DPTGG H.I.O. POT contains $510.00. Are YOU in? -- We actually have a gig in the near future. Old reliable Tom Bower will be starring a film in April called "3", a senior love triangle, co-starring Marilyn Mason & Angie Byrd. It will be directed by Kelly Bratz. -- One birthday in March on the 4th for Mike Belson. He's getting up there. Maybe some of us in the 80's and upward with handicaps in the 30's should play from the forward tees. "I have no shame"; exclaimed Mr. Belson! -- Bill Lewis & Marcia Rodd are off on another cruise to the Bahamas with the rest of the Lewis clan. -- Val Mayer & Nancy Dussault depart this week on a month long tour of Australia & New Zealand. They'll be back in April. Listen for an Aussie accent when they return.

IN MEMORIAM
We have belatedly learned of the January 21st passing at age 95 of former member Joel Freeman, a Producer/Production Manager/AD, best known for producing the iconic 1971 "SHAFT" film starring another former member Richard Roundtree.

GOLF NEWS ON THE WEB