AND THE WINNERS WERE. . .
ELKINS RANCH G.C. - 11/01/2018: The Ranch course was exceptionally challenging this day yielding nary a single sub-80 score,
Mr. Oblak

just 3 in the 80s, 7 in the 90s, and another 6 players at 100+. Brian Oblak came out atop the money list with $68, gleaned from a pair of birdie payouts, the Low Putts award, and Super Gross runner-up. Both of the remaining 2 birdies went to Ron Troncatty whose $64 take also included the Super Low Gross award and 2nds in Net, Partners, & Putts. The Porter Low Gross winner was Craig Fehrman who exactly matched RonTron's run of 2nd placings for a $28 haul. Ted Winship took 1st place in both Low Net & Partners to pocket $21 while Tom Knickerbocker's $15 came from 2nd placings in Porter & Putts along with a Partners 1st. Jim Sabbe and Mark Kourtjian were paired up in the Partners 3rd place spot worth just Three Bucks apiece. CAMARILLO SPRINGS G.C. - 11/08/2018: A loyal cadre of 10 stalwarts bravely struggled in the brutal windy conditions to finish and post any kind of acceptable score which was then followed by the arrival of the threatening fire storm (The Hill Fire) that triggered many harrowing escape accounts until all eventually got to their home base safely. The recount of the day's results shows Ron Troncatty topping the money list at $58 garnered from 2 of the 4 birdie payouts, the Super Low Gross award, a tie for Low Net and Partners 2nd. The two remaining birdies were scooped up by Bob Stone worth a total of $43 when added to his tie for 2nd Low Putts. The Low Putts winner was Bruce Simon who also grabbed a Partners 2nd for a $17 total. Thirteen Bucks apiece went to Marilou Miller and Mike Gannon, LouLou with a tie for Low Net &Partners 1st place and big Mike joining her in the Partners win along with Porter Gross 2nd & Net 3rd. The Porter Low Gross winner was Tom Knickerbocker whose Partners 3rd place boosted his take to $12 while Bob Planck pocketed $5 by tying for 2nd in Putts and joining The Knick in Partners 3rd place. OLIVAS LINKS G.C. -11/15/2018: The tally sheet reveals 10 competitors "in the money" out of the field of 13 who teed it up. Ron Troncatty topped that list with $41 taken from the Super Low Gross award, a Partners 1st, Low Putts 2nd, plus 1+1/3 shares of the birdie monies. Craig Fehrman won the Low Putts, picked up a one-third share of the birdie booty, along with a Partners 3rd for his $21 haul. Each single birdie was worth an even $20 and that's what Jimmy Dodds accepted for his solo tweeter. Mike Gannon posted 2nds in both Porter Gross & Low Net along with Partners 1st to earn $16. The Porter Low Gross award and final 1/3 share of the birdie monies sent $15 to Tom Knickerbocker. A pair of $14 sums went to Marilou Miller with a Partners 2nd & 1/2 birdie share, and to Bob Planck with the days' Low Net and a Partners 3rd. Ted Winship shared LouLou's birdie good for $10. Mike Belson's placings in Partners & Low Net produced $8 while Brian Oblak's Super Gross runner-up spot paid out a modest $4. LOS ROBLES GREENS G.C. - 11/29/2018: CANCELLED due to inclement weather. Note: The rain out is only the 18th weather cancellation for the DPTGG since 2001.

Continue

GIGS N STUFF
John Moskoff's I Feel Bad will air December 13 on NBC at 8:30PM. As a preview, here is a shot of him in his racquetball instructor uniform...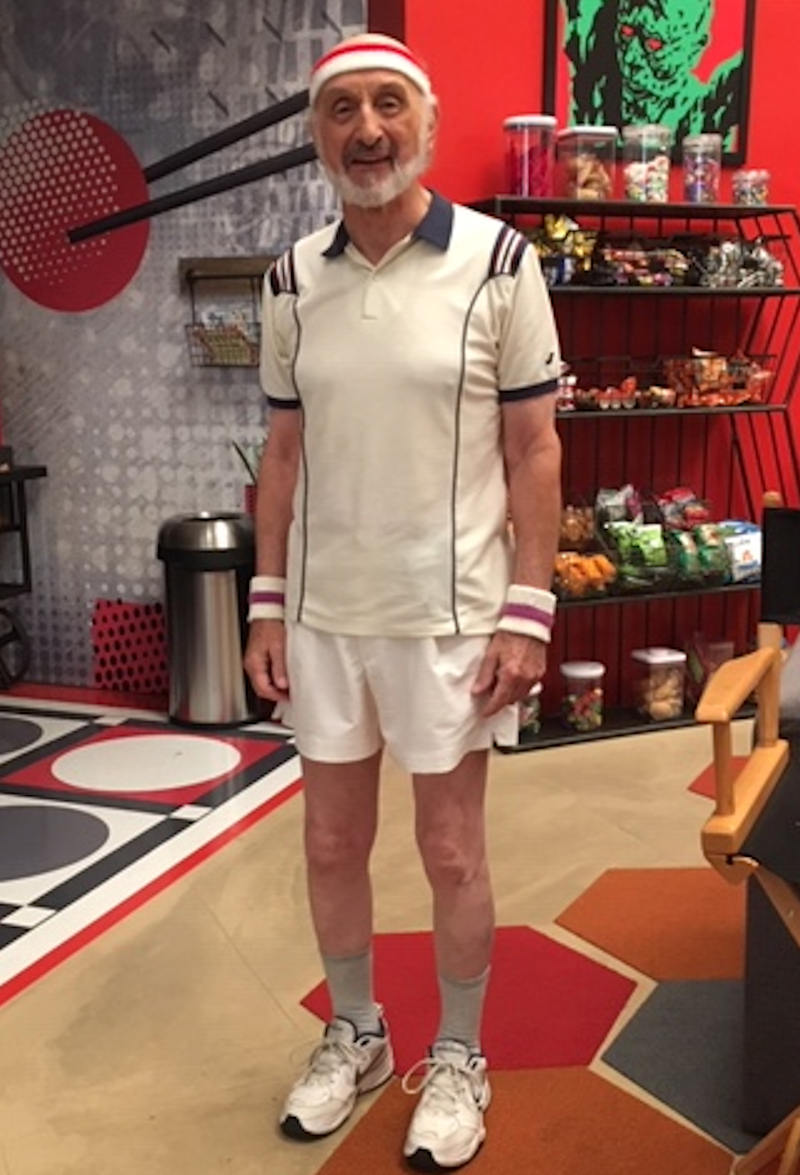 Mr. Moskoff

It has been suggested that those knees haven't seen the light of day in years and may never see them again... For Goodness sake!! -- It was a record breaking November for Brian Oblak who booked four gigs in the four week period. Lucifer, a devilish performance, Jane The Virgin & Veronica Mars in which he portrays a rich golfer, shot at Wood Ranch, and he just completed a Narcos in Mexico City. Now he's off to spend Chanukah in Cleveland, but he'll be back in time to compete at Balboa in the semi-annual scramble -- Marcia Rodd will be performing in a new play, Light's Out: Nat "King" Cole. at the Geffen Theater. It goes into rehearsal soon, and opens the first week in February -- Belated Happy Anniversary to Jim & Louisa Jacobs who celebrated their 54th year of wedded bliss last month -- Nancy Dussault & Val Mayer jetted to Puerta Vallarta for their annual Thanksgiving visit to their condo -- and Marilou Miller defied orders to evacuate her Malibu beachfront digs during the recent fires, but when she went out to buy groceries, she couldn't get back in. Oops! -- Frank "Cat" Ballou's beloved Barbara was laid to rest on a beautiful hilltop at Forest Lawn on December 1st, after fighting a courageous battle with MS for 20 years. She will be sorely missed by all who knew her.

GOLF NEWS ON THE WEB