AND THE WINNERS WERE. . .
OLIVAS LINKS G.C. - 07/11/2019 A myriad of last minute cancellations due to unanticipated injuries, other health issues,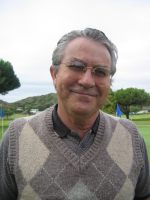 Mr. Mayer

and legitimate commitments, or maybe just the big holiday hangover, dwindled the original field to 11 stalwarts. Brian Oblak's sizzling 77 gross appropriated $69 that was nearly half of the entire wager pot proceeds with a pair of birdie payouts, 1st Places in Super Gross, Partners & Putts(a tie), and another tie for 3rd Low Net. Val Mayer pocketed $35 from a solo birdie, Partners 1st place, and that tie for Low Putts. Winnings then dropped off dramatically to $15 for Bruce Simon with 1st Place in Low Net, runner-up in Porter Gross, and a Partners 3rd. The Porter Low Gross winner was Tom Knickerbocker who added a Partners 2nd for an $11 payout. A pair of identical $7 sums found Jim Sabbe as runner-up in both Super Gross & Partners, and Bill Lewis with a Partners 1st and tie for Net 3rd. Marilou Miller completed the trio tied for the day's Low Putts at 32 pops on Olivas' slippery surfaces worth $6 while "Cat" Ballou's Partners 3rd place paid out a paltry Two Bucks. BUENAVENTURA G.C. - 07/18/2019 At the conclusion of this day's round the usual wager pot distributions were preceded by the formal presentation of the Don Porter Trophy for "Golfer of the Year-2019" along with the commemorative embossed jacket to this year's worthy honoree Mike Gannon who had been unable to attend our Annual Bash back in June. This day's half dozen money winners were led by Bob Stone pocketing $30 from a pair of birdie payouts and a Partners 3rd place. Val Mayer picked up $25 from a solo birdie and 1/3 share of another tweeter, along with a tie for 2nd Net & Partners 3rd place. The recipients of $24 each were Ron Troncatty posting 1sts in both Super Gross & Partners, a tie for Low Putts, plus a 1/3 birdie share and Bruce Simon with 1st Place in Low Net, 2nds in both Porter Gross & Partners, and that 1/3 birdie share. A $21 sum went to Mike Gannon who won the Porter Low Gross award and added a Partners 1st & Net 2nd Places. Ted Winship's $13 take resulted from his tie for Low Putts & a Partners 2nd. Another half-dozen unrewarded competitors enjoyed the round (or not) under sunny skies & mild temps. These included one undaunted member, Jim Jacobs, who posted a 12 on the Par 3, Hole #5, after multiple attempts found their watery grave. This marked his highest recorded number on any given hole in a lifetime of golfing dating back to 1943 and left him with just one lonely pelota in hand with which to complete the next 13 Holes. . . and he did! WESTLAKE VILLAGE G.C.- 07/25/2019: Highlight of the day was the wonderful record-tying round fashioned by octogenarian Jimmy Dodds, a 72 Gross with multiple birdies that produced a stunning 52 Net score. A careful review of our Thursday Golf archives revealed that his 15-Under Par Net TIES the previous all-time Low Net on any course, the 15-under 56 posted by Sunny Weiss in Oct. 2017 at Simi Hills G.C. and his 72 Gross matches the 72 posted at the same Westlake track during our 2014-2015 Season by Jimmy's fellow Illinois native, Jim Jacobs, likewise a young 84 at the time. The Dodds' 52 Net does establish a new Low Net mark for Westlake replacing the previous 55 Net scores by Bruce Simon and Al Giordano back in Feb. 2002 and later tied by Bob Planck in March 2015. The day's top money winner at $45 was Ron Troncatty with a solo birdie award, a tie for Low Putts, and Super Gross runner-up. Pocketing $38 was Gordon Crook, the Super Gross winner, also claiming a solo birdie payout and Partners 1st Place. Craig Fehrman won the Porter Low Gross award along with a solo blind-drawn birdie to pick up $34. The much congratulated Jimmy Dodds extracted $31 from the Low Net win and Partners 1st plus a 1/3 share of a designated tweeter. Marilou Miller tied for Low Putts and added a 2nd Net & 3rd Partners for a $26 take home. John Moskoff joined the trio sharing the designated birdie and added a 2nd Partners & 3rd Net for $19. Bruce Simon was the 3rd party to share the split birdie and his 2nd Partners added up to $13. The Porter Gross runner-up spot paid out $6 to Tom Knickerbocker and a Partners 3rd Place sent $3 to Mike Gannon.

Continue

GIGS N'STUFF
After a months long absence, Tom Bower made his return to the fold at Simi Hills and gave us an update on his recent film activities.
Mr. Bower

"Light Of My Life", written, directed and starring Casey Affleck, opens August 9, in which Tom plays the character "Tom". "Senior Love Triangle" and "Two Ways Home" have been making the film festival circuit and have upcoming dates in Burbank and Texas respectively. His secret movie remains secret. If any changes we'll let you know. Good news, wife Ursula has had some body parts replaced and is feeling better than she has in years -- Once again we can look forward to the holiday season, when the film, "Christmas In The Key Of Harp" opens featuring none other than our favorite Santa, Bill Lewis. It has the same director as "Saving Santa". Bill and Marcia are off on the 22nd to Paris for a 10 day river cruise -- Brian Oblak rejoins the ranks of he gainfully employed on the 5th & 6th when he guests on the series "911". He plays a harbormaster, hopefully he emerges unscathed -- Val Mayer & Nancy Dussault are currently exploring the dark continent. They'll be back later in the month -- August means Jim birthday month. We have Raymond on the 14th, Jacobs the 25th, and Dodds the 30th.

GOLF NEWS ON THE WEB