AND THE WINNERS WERE. . .
VICTORIA LAKES G.C. at RIVER RIDGE - 09/06/2018 An even dozen of this day's field of 14 shared in a fairly equitable distribution of the wager pot monies,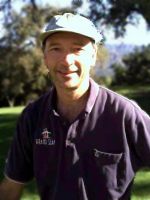 Mr. Stone

topped by Gordon Crook's $33 for a solo birdie and one-third shares of two additional tweeters. The Porter Low Gross prize along with Partners 1st place and one of the birdie shares paid out $25 to Bob Stone. Identical $21 payouts went to Ron Troncatty and Ted Winship both of whom joined the cluster of birdie-begetters. RonTron also took the runner-up spot in Super Gross and tied for Low Putts while Teddy nabbed 2nd place in Low Net and a Partners 3rd. Mike Belson snatched the Low Net prize and a Partners 1st place for a $19 day. Tom Knickerbocker's share in two of the birdies was worth $15. Val Mayer's single birdie share along with a pair of 2nd placings in Net & Partners paid out $14. The day's Low Gross score, a sensational 74, was posted by Brian Oblak who added a tie for 2nd Net but without any birdie monies he only realized a modest $12 for this superb effort. Marilou Miller tied RonTron for Low Putts that was worth $11. The Porter Gross runner-up spot sent $6 to to Mike Gannon while Bruce Simon's Partners 2nd paid $4 and John Moskoff's Partners 3rd got a token Two Bucks. ENCINO MUNI G.C. - 09/13/2018 Exactly two-thirds of our 18 player field partook of the wager pot distributions. Top dollar of $38 went to the Porter Low Gross winner Roger Pelote whose slick 79 posting also notched wins in Low Net & Partners. A solo blind drawn birdie rewarded Jim Jacobs with $32 when augmented by his Partners 2nd place and tie for 3rd Low Net. The day's best round, a sensational 75, won the Super Low Gross award for Jim Sabbe that, along with his solo blind birdie, paid out $28. Larry Fine tied for 1st in both Low Net & Low Putts to pocket $26. Marilou Miller's $25 take came from a Partners 1st place along with ties for Low Putts & Partners 3rd. The next blind birdie drawn, worth $24, selected Bob Planck's solo tweeter. Bob Stone and Bill Lewis shared the final blind birdie with Mr. Stone accepting the $12 share and Mr. Lewis getting $15 by adding a Partners 3rd. Ted Winship picked up $5 for Partners 2nd while $3 apiece went to Tom Bower & Mike Gannon who tied for the Porter Gross runner-up spot and to Val Mayer in Partners 3rd place. LOS ROBLES GREENS G.C. - 09/20/2018: We closed out the calendar's official Summer Season with a welcomed 5 Group turn-out at this popular venue. Jim Sabbe topped the money winner's list with $60 by claiming the entire designated birdie pot with his solo tweeter on Hole #16 along with a tie for 2nd in Low Putts. Just a single simoleon back at $59 was Mike Gannon who notched 1st Places in Porter Gross(tie), Low Net, and Partners along with a solo blind drawn birdie. Low Round of the Day was a nifty 73 belonging to Gordon Crook who picked up $47 from the Super Low Gross award, a tie for 2nd in Putts, 3rds in both Net & Partners and the remaining blind birdie. Bob Stone's 29 Putt total easily took that award to which he added a tie for Porter Low Gross and 2nd places in both Net & Partners for a $44 take home. The runner-up spot in Super Gross with a solid 75 and a Partners 1st place earned $12 for Ron Troncatty. By partnering up with Mr. Stone a fortunate Mike Belson managed to pick up $5, while Jimmy Dodds pocketed $4 in a tie for Low Putts runner-up, and Marilou Miller scooped up $3 from Partners 3rd place. WESTLAKE VILLAGE G.C. - 09/27/2018: This day's highlight was an EVEN PAR round fabulously fashioned by Gordon Cook that easily topped the winner's money list at $62 by marking in every wager category, a solo blind drawn birdie, FIRST PLACES in Super Low Gross, Partners Net & Low Putts plus a 3rd Low Net. Bob Stone also claimed one of the 4 blind drawn birdies along with the Porter Low Gross award and a Partners 3rd for a $37 total. Ron Troncatty joined the birdie boys and was runner-up in Super Gross plus a Partners 3rd to pocket $31. The 4th blind birdie was captured by Val Mayer who added a Partners 2nd place for his $29 winnings. Marilou Miller and Ted Winship tied for Low Net to share its $24 award worth $12 apiece with LouLou adding a Partners 2nd for her $17 total. Brian Oblak's only marker was a Low Putts runner-up spot worth a modest $8 while another $8 went to Mike Belson who found himself fortuitously paired with Mr. Crook in the winning Partners spot. Tom Knickerbocker managed to extract $4 from the runner-up spot in Porter Low Gross.



Continue

GIGS N STUFF
News from the desert: Our old buddy, Jim Raymond will have a hard time sitting again after exploratory surgery on his backside.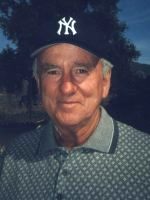 Mr. Raymond

Best wishes from all of us on a speedy recovery, no "if's and's or butts"! -- Ted & Zanne Winship are on their way east for a cruise (again) from New York, through the St. Laurence Seaway to Quebec to see the fall leaf color change. Some of us will have to settle for the leaves in the Sepulvida Basin. -- Washington D.C. is the destination for Bob & Marsha Stone as they take a museum and monument tour of our nation's capitol -- The post hurricane news from Greer, S. Carolina is positive, Chuck Tamburro reports little rain and no damage to his house and the neighboring future home of Ted & Jeri White. Similar news from Myrtle Beach and Jeff Jacobs who's home was also spared -- Paul Venetos has been in Maine on family business -- Bruce Simon picked up some additional days in his quest to join Local 399 on NBC's 2nd season series, "For The People". -- Val Mayer celebrates a birthday on the 29th.

GOLF NEWS ON THE WEB